DAW: THE MAN BEHIND THE SUCCESS
David "DAW" Belzidsky, founder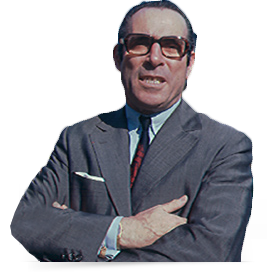 The desire to take care of others is perhaps the greatest feature which distinguishes man from animals.
Ironically, my father David Belzidsky is better known today for what he accomplished as an amputee rather than anything he achieved as one of France's promising soccer stars.Known to his fans by the nickname "Daw", he was about to take his place in soccer history when World War II stunned Europe. His dreams of a successful sports career came to an abrupt end when enemy forces bombarded his battalion and inflicted upon him the injury of a below knee amputation.
My father's remarkable qualities of determination, vision and inventiveness came together during this adversity resulting in the DAWFlo™ Vascular Enhancement System. With this innovation, he succeeded in helping hundreds of thousands of amputees enjoy a better quality, more active lifestyle.
I brought this quality product to America in 1975 where it immediately became the new standard of excellence in prosthetic patient care management. Since then, it has consistently won worldwide acclaim as the ultimate prosthetic sheath/sock system.
MEETING THE CHALLENGE OF CHANGE
Today, DAW Industries of America continues to expand its leadership role in prosthetic and orthotic research, development, and manufacturing. Building upon David's uncompromising standards of creative design, optimum performance and dedication to patient care, DAW is pushing the outer limits of science, technology and patient management philosophy.
We at DAW Industries are proud of our special partnership with you the patient. This has created the many contributions we have made to the advancement of prosthetics and orthotics. All of us at DAW pledge to continue to provide you with the best products and services.
Let us know about your new ideas and concepts—we can make them reality. Together, we can create an even better future for today's and tomorrow's physically challenged.
Hugo Belzidsky
President & C.E.O.